Welcome to Ellen Million Graphics' Featured Artist of the Week! Each week (or so), we select an EMG artist and share their work and history. We hope you enjoy getting to see incredible artists this way.
This week, our spotlight turns to illuminate that artist of colorful characters and storied scenes, Brandy Woods! Brandy joins us from Montreal, and is originally from Louisiana where the walls of her family home were papered in her childhood drawings.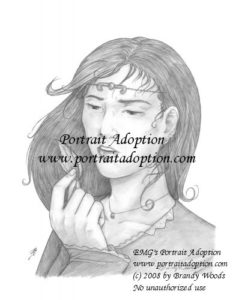 "My mom tells me that even before I held a pencil, I was using fingernail polish to 'paint' on my highchair," Brandy confided. She's largely self-taught, and drew early inspiration from Wendy Pini before being deeply influenced by manga. She's spent the years since refining her style, and attended Dawson College's Illustration & Design program in her 30's, graduating at the top of her class with honors and multiple scholarships.
When creating, Brandy most often sketches in pencil before digitally coloring her works in Corel Painter or Photoshop. She also enjoys working with acrylics, oils, and watercolors. Much of her inspiration is drawn from fantasy and various world cultures. When she's not creating, you're likely to find her reading—"One of my life goals is to have a library like Neil Gaiman's," she told us (a worthy goal!)—or playing video games. She enjoys science fiction, fantasy, mythology, and more. She also enjoys collecting Breyer horses, red foxes, and fountain pens. You can discover more about her and her work at her website.
Brandy is one of EMG's most popular Portrait Adoption artists, with a gallery of seventeen portraits – several of which are on wishlists and many of which come with the option to purchase the original. She's an inspired portrait artist as well – her character studies pull off impressive characterization in expression, stance, clothing and equipment details, and more. You can even request customizations on a number of her portraits. In her gallery, you'll find everything from women warriors in both sensible and non-sensible armor, dark elves and skeptical elves, spellcasters and unicorn companions and characters in excessively long coats. She's also open to commissions! We invite you to discover more of her work at EMG through the link below!
Brandy's Sketch Fest gallery.