This autumn day brought a breath of fresh air and fallen leaves, foxy tea and decorated pumpkins to EMG Sketch Fest #114. I hope you've joined us and have been leaving prompts and comments for the artists – if not, there's still time! Sketch Fest runs through 12 PM AKT tomorrow and it's free to register on the site.
In the meantime, enjoy these featured illustrations:
Miss FionaB took pride of place with the first illustration in our gallery! This is her second submitted piece – the sketch "There's Magic in Her Eyes" was inspired by Julie Rabischung's prompt.
Remember that breath of fresh air I mentioned? You can feel it emanating from Jill Britt's sketch of these playful foxes, full of movement and enjoyment of the autumnal weather.
This proud and pensive noblewoman is in her element – "Noble Curcubits" by Tallulah Cunningham was inspired by Deborah J. Brannon's prompt of "The Pumpkin Duchess." Tallulah wrote, "I do like me some pumpkin based costumery." As do we! (For those wondering about the title, cucurbits is a name for the gourd family of plants which includes the pumpkin.
Sheryl Abid sketched this gorgeous and intricate stack of tea cups with autumnal motifs against a backdrop of pumpkins and fallen leaves. Who's ready for an autumn tea party?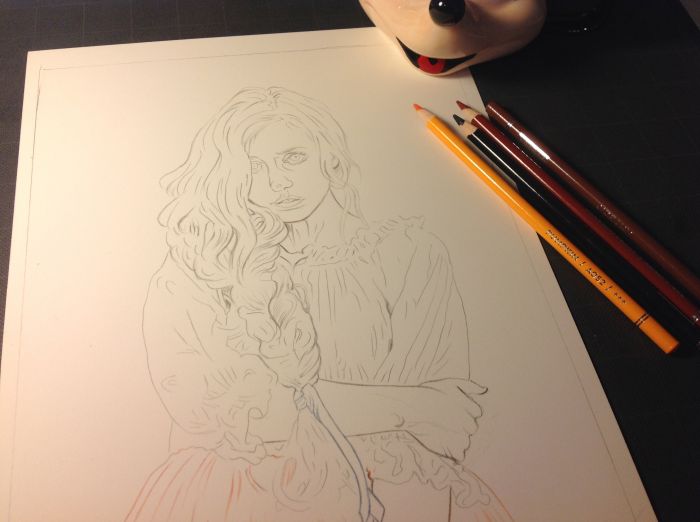 Our last featured illustration comes to us from Katerina Koukiotis and is full of palpable disappointment – inspired by the prompt, "Sabrina's First Spell," Katerina wrote, "This is something I'm working on and it fit this prompt very much, when spells don't always work ."
Those are our featured illustrations for now – head over to the full gallery to explore more and leave our artists some much-deserved comments! Come back to the blog on Monday for more featured illustrations and the announcement of November's Sketch Fest dates.
Remember, if you share sketches from Sketch Fest on social media, use our official hashtag: #EMGSketchFest.