We're a bit over 24 hours into #EMGSketchFest 103, and our participants have not been idle! We have dozens of illustrations in our gallery, ranging from a bevy of witches to a cuddle of cats to angels and elves and demons, oh my.
There are also A TON of prompts – if you'd like to join in, we've got plenty to inspire you! Just register on the site (free!) and get started.
Time for a few illustrations to get you excited:
This adorable orange octopus is ready to celebrate Halloween! Prompted by Jill Britt, Paola Zunico drew this "Kawaii Octopus inspired in Halloween theme." You can pick up the original 5.5″ x 8.5″ illustration on Canson paper for $45.
Can you feel the wind of this mischievous "Magic Cat" darting by you? Jill Britt was inspired by Rosie Wells to draw this feline in motion.
This "Pangolin Witch" by Kir Talmage is the envy of her neighborhood! As she sketched, Kir spent her time looking up references, and "watching part of a variation of  The Little Prince. (The starred fox is marvelous!)"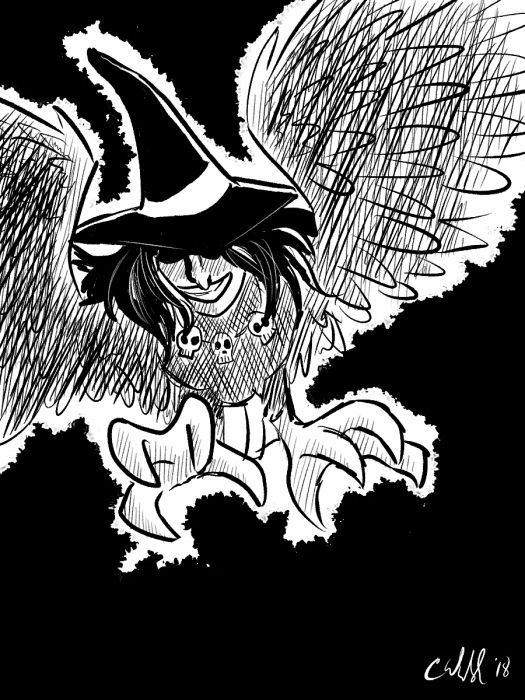 Caitlin Woods' "Harpy Witch" is coming for you!
Maria J. William, prompted by Jenny Heidewald's love of chickens and her "The Witch of the Chickens" prompt, created this gorgeous portrait titled "The Simple Life." You can snag the original 6″ x 8″ ink drawing on Strathmore paper for only $40 or purchase prints for $10.
That's it for this afternoon's featured illustrations! Hop on over to the full gallery now for even more, and don't forget to use our official hashtag of #EMGSketchFest when sharing on social media.