Sketch Fest #129:
Sketches ~ Prompts
Finished Work
Available Sketches
Previous Sketch Fests
Donate to get more spiffy features:

Sketch Fest #129 will run March 26-28! (Today's date: 2022-08-11 02:21:32)

Sketch Fest has ended! Stay tuned for the next event!
---
Meditating
by Natta

Prompt: Rainbow gnome
prompted by: Katta, during Sketch Fest #101 (August, 2018)

This artist has posted at least one finished version of this piece!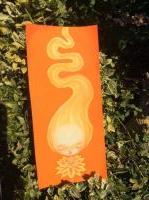 Orange gnome of my series. Watercolour on arches hot press 300g/qm I am much into mindfulness and painting as practice counts;)
---
Comment?
Afke says: Adorable, and yes very serene. :) ~ Reply?
Mayumi Ogihara says: So peaceful... 💗 ~ Reply?
---
---
Public Updates List


Information for customers, updates for Sketch Fest, specials and new available publications. To join the artist updates list, or other specific lists, click here!

Donate to get more spiffy features and site improvements: