We're nearing 150 pieces posted in the #EMGSketchFest 100 gallery, which is stuffed full of amazement and enchantment – where else can you see fine examples of acrylic pouring mingling with bubbles and mermaids or green man sculpture hanging out with pencil sketches of pegasi and horned women? We've got it all!
Including some winners of our 100th Celebration prizes! Read on for their names and a sneak peek of great art you'll encounter in the gallery.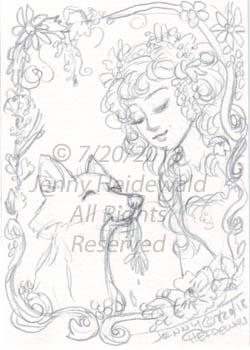 Smile at Jenny Heidewald's "Fox Flower," an enchanting piece that suggests a tale of whimsy and joy. Jenny is also the winner of our First Hurdle Artist prize for being the first participant to upload 5 pieces to the gallery!
"Shadows and Lace" by Katerina Koukiotis is an alluring portrait inspired by Jenny Heidewald's prompt. Katerina had vintage and steampunk notions tumbling through her head when she read Jenny's prompt! The original 5×7 graphite and charcoal powder sketch can be yours for only $25! You can also get an ACEO LE print for $6.
Inspired by Laura Macy's "Putting Flowers in My Hair" prompt, Nathalie Reinholz painted this vibrant girl crowned with radiant flowers. Here's what Natta said about her piece: "My version of ever after painting course. A bumble bee landed on the flowers while painting. I can be satisfied then!" Yes!
Kathryn Whiteford knows how to draw a man too devilishly handsome for his own good! This rake also lived up to his reputation, even on paper, from what Kathryn had to say: "Augh, men! This guy was such a pain to draw and this is the second attempt of the sketch. Took the whole hour to get him to this point since I started and scrapped my first idea, then started again and finished here. As stubborn as he was, I do like how he ended up." We do, too!
Afke van Herpt sculpted this adorable narwhal from glittery polymer clay, inspired by Sarah Alden's prompt. Afke explained, "The horn I made a couple of months ago (for a little unicorn workshop I gave). It will get a knitted body." This narwhal was the first example of three-dimensional art uploaded to the gallery – so Ake wins our First 3D Artist prize!
Did you enjoy these featured pieces? There's even more to admire in the complete #EMGSketchFest 100 gallery. Hop on over there and share your favorites on social media with our official hashtag.