Welcome to Ellen Million Graphic's Featured Artist of the Week! Each week, we select an EMG artist and share their work and history. We hope you enjoy getting to see incredible artists this way.
This week, the spotlight turns to Mayumi Ogihara! Originally from Japan, Mayumi now lives and creates in BC, Canada. While she began as primarily a portrait artist, she discovered a talent and love for creating fantasy art – which she's been practicing with great skill and passion ever since. You can discover more about her, explore her a portfolio full of soulful and emotive illustrations, and even watch videos of her process at www.mayumiogihara.com.
Mayumi has been an excellent friend and supporter to Ellen Million Graphics for years – her Sketchfest gallery is especially impressive, since she's been a regular participant for the last four years. She also provides portraits to the Portrait Adoption site, where she even now has several portraits available that are rife with story potential.
Each of the illustrations included in this feature gallery have products available, and we invite you to explore more at her pages over on EMG as linked below.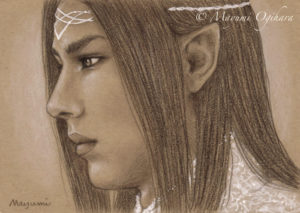 Mayumi's Portrait Adoption gallery.
Mayumi's Sketch Fest gallery, including art available on various products.
The pieces featured here are:
Portrait, ready for adoption.
"Star Bright." ACEO print available!
"Elven Prince." Original available!
"Guardian of the Forest." Print, and ACEO print available!
Another portrait, ready for adoption.