The Ellen Million Graphics collection of coloring books feature gorgeous linework by dozens of talented artists. Each staple-bound coloring book has a sturdy cover and moderate weight pages that can handle most medias, even markers and some light watercolor. Pages are printed one-sided. WARNING: There is a printing delay that is expected to last several months. Many titles may not be reprinted until 2014, and many may not be reprinted at all.
---
Gardens and Goddesses
19 highly detailed pieces from Mitzi Sato-Wiuff. Fairies, spirits, mermaids and more grace this lovely stunning collection. Difficulty level: Color at your own risk (lots of gorgeous fine details!)
SOLD OUT
The Dark Art of Robin Nunez
20 pages of artwork by artist Robin Nunez exploring dark art and horror. Back in print after almost three years! Difficulty level: Pretty Darned Challenging.
Buy now: $8.50 SALE: $6.00
Snow-Unicorns and Steam Cities
Now available for pre-order, Torn World's first coloring book is an awesome introduction to the visual delight of this unique shared world. Highlighting the two distinct cultures of the north and south, this coloring book is actually a flip-book: one half focuses on the steam-powered culture of the Empire and the various lands it claims. Flip the book over entirely to meet the snow-unicorn riders that inhabit the far northern reaches of the continent, and get a taste for both cultures with a poem, a look at two celebrations, and a myth.
20 pages of artwork, punctuated with short written bits, all by the talented Torn World creators: Elizabeth Barrette, Lisa Cree, Jenny Heidewald, Holly Hutchison, Layla Lawlor, Ellen Million, Deirdre M. Murphy and Marika Purisima. Difficulty level: Pretty Darned Challenging.
Fishbowl Fantasies
First printed in 2003, this coloring book is now in the fourth printing of its second edition. 17 finely detailed mermaids (and one merman!) for coloring fanatics, featuring work by Jennie Seay, Robin Nunez, Victoria Griffin, Syvlia T. Stuart (Leung), Misti Turner, Roberta Stroud-Vaughan, Sarah B. Seiter, Audry Hodtwalker, Alethea Marti, Kelly Ganson, Ellen Million and Annie Rodrigue. Difficulty level: Pretty Darn Challening (many fine details)
SOLD OUT
Dragons, Fairies and Fantasy Horses II
22 detailed scenes from Alice den Hollander, Carrie Hawks, Jenna Nilsson, Laura Melis, Erika Harm, and Ellen Million. Difficulty level: Pretty Darn Challening (many fine details)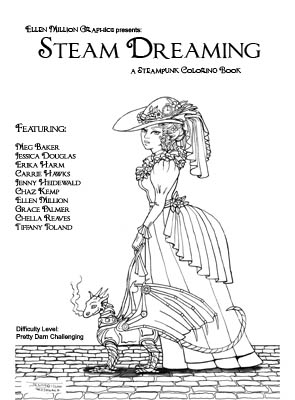 Steam Dreaming
19 scenes of steampunk ingenuity - mechanical dragons, machines for all purposes, trains, dirigibles, and more gears than you can fit in a seven story watch. Artists include Jenny Heidewald, Chella Reaves, Meg Baker, Jessica Douglas, Erika Harm, Carrie Hawks, Chaz Kemp, Grace Palmer, Tiffany Toland and Ellen Million. Difficulty level: Pretty Darn Challening (many fine details)
Fantastic Magic
15 fantasy coloring pages for all ages; unlike most of our coloring books, which are designed for adults, these are simpler scenes with easier lines. Fairies, wizards, dragons and more! Artists include Meredith Dillman, Katrina Joyner, E.D. Siffert, Jenny Heidewald, Mary Layton, Selina Fenech, M.R. Millard, Kimberly D. Phillips, and Jayde Hilliard. Difficulty level: Not Too Hard
Rum and Ruffians
18 pages of hilarious pirate goodness! Pirates! Wenches! Swag! Parrots! Arr! Artists include Hanna Engkvist, Chella Reaves, Al McConnell, Mary Layton, Laura Melis, Joanne Taylor, Robin Nunez, Jennie Seay, Ren Bail, Audry Hodtwalker, Sylvia T. Stuart (Leung) and Jenny Heidewald. Difficulty level: Pretty Darn Challenging
Discontinued! Limited stock remaining!
Fantasy Isn't Always Pretty
This coloring book is not for children! It contains nudity, violence, death, dark humor and other themes not intended for young audiences. If no-holds-barred gothic, dark fantasy and horror... and a sense of humor are your cup of tea, this is the perfect coloring book for you! Artists include Esther Brendel, Sarah B. Seiter, Claire Waller, Krista Cagg, Kelly Ganson, Erika Harm, Robin Nunez, R. Bail, Valentin Schonbeck and Ellen Million. Difficulty level: Pretty Darn Challenging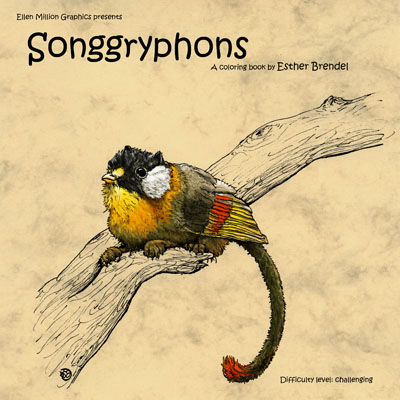 Songgryphons
Esther Brendel's adorable Songgryphons are here collected into an adorable and enchanting field guide, complete with scientific names. Difficulty level: Challenging
The Faeries of Victoria Griffin II
The second collection of Victoria Griffin's enchanting fairies. Difficulty level: Challenging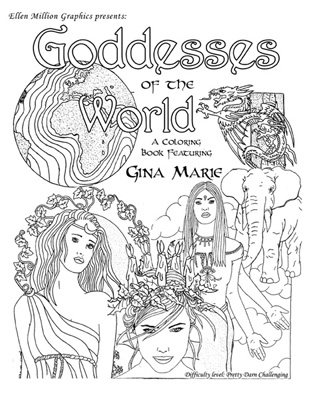 Goddesses of the World
Go on a world-spanning voyage with Gina Marie, with a beautiful and richly symbolic collection of popular and lesser-known goddesses that span the world. Difficulty level: Pretty Darn Challenging
Dotminatrix
The lines and dots of Ellen Million. Gryphons, unicorns, anthromorphic shamans, dryads and more are collected in this volume. Difficulty level: Color at your own Risk!
Looking for more of the Ellen Million Graphics publications?
Tell Me a Story is a limited edition publication of Ellen's artwork with 100 pages of stories and artwork. Buy now: $20.00
The EMG-Zine Anthologies are softcover collections of the best articles, tutorials and walk-throughs about the Business of Fantasy Art. They are also available at Amazon.
Family Ties and Torn Skies is a collection of Torn World stories and artwork by a dozen creative contributors.
Out of print calendars and oracle cards are available at Amazon.
Return to Ellen Million Graphics
|
FAQ
|
update lists
|
contact EMG
|
All graphics on these pages are under copyright. Webpage design copyrighted to Melissa Findley, Ellen Million and Jennie Seay.
All artwork copyrighted to the creating artist. If you find anything which is not working properly, please
let me know
!
EMG powered by: a few minions and lots of enchanted search frogs
Sun, 19 May 2013 22:58:02 -0700
Ellen Million Graphics: Taking the Starving out of Artists since 1993