Sketch Fest #124:
Sketches ~ Prompts
Finished Work
Available Sketches
Previous Sketch Fests
Donate to get more spiffy features:

Sketch Fest #124 will run September 18-20! (Today's date: 2020-10-20 12:22:56)

Sketch Fest has ended! Stay tuned for the next event!
---
Natural Weapons
by Jenny Heidewald

Prompt: Natural weapons
prompted by: Anke Wehner, during Sketch Fest #23 (January, 2012)

This is a finished version of a sketch!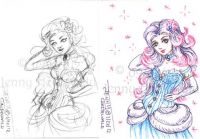 Micron pen on 2.5 x 3.5" Bristol paper. If you miss buying the original line version, I now offer a limited run (three) of any of my Sketchfest ACEOs. These will be printed on watercolor paper and hand painted. If interested, drop me a line via e-mail, or in the comment area. :) I also have a Facebook page for my art.
---
Comment?
Sylvia Heidewald says: Love that outfit! ~ Reply?
Jenny Heidewald
replied to this: Thanks, Mom, it turned out well. :)
Erich Heidewald says: I love those colors! Nice job on the makeup. :) ~ Reply?
Jenny Heidewald
replied to this: Thanks Erich! I like how I did her hair, pink tipped. :)
---
---
Public Updates List


Information for customers, updates for Sketch Fest, specials and new available publications. To join the artist updates list, or other specific lists, click here!

Donate to get more spiffy features and site improvements: