Sketch Fest #128:
Sketches ~ Prompts
Finished Work
Available Sketches
Previous Sketch Fests
Donate to get more spiffy features:

Sketch Fest #128 will run January 22-24! (Today's date: 2021-01-24 20:30:24)

Sketch Fest has ended! Stay tuned for the next event!
---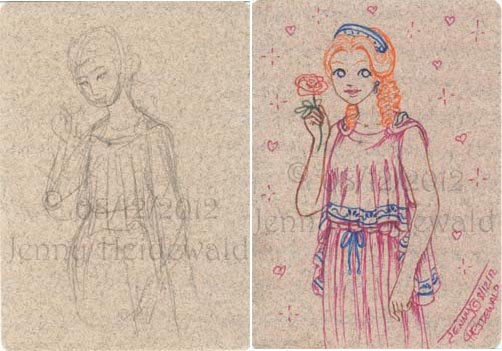 You Enchant Me - Aphrodite
by Jenny Heidewald

Prompt: You enchant Me
prompted by: Marta Fabianek, during Sketch Fest #27 (August, 2012)

This artist has posted at least one finished version of this piece!
The goddess of love, Aphrodite. Highly influenced by a manga that I am reading right now. She is wearing a Doric chiton. Micron pen and colored pencil on 2.5 x 3.5" colored paper.I also have a Facebook page for my art.
---
Comment?
Marta Fabianek says: Looking forward to this one, too :D ~ Reply?
Jenny Heidewald
replied to this: Thanks! This one cooperated better than the other! :D
---
---
Public Updates List


Information for customers, updates for Sketch Fest, specials and new available publications. To join the artist updates list, or other specific lists, click here!

Donate to get more spiffy features and site improvements: