Sketch Fest #129:
Sketches ~ Prompts
Finished Work
Available Sketches
Previous Sketch Fests
Donate to get more spiffy features:

Sketch Fest #129 will run March 26-28! (Today's date: 2021-07-31 05:41:27)

Sketch Fest has ended! Stay tuned for the next event!
---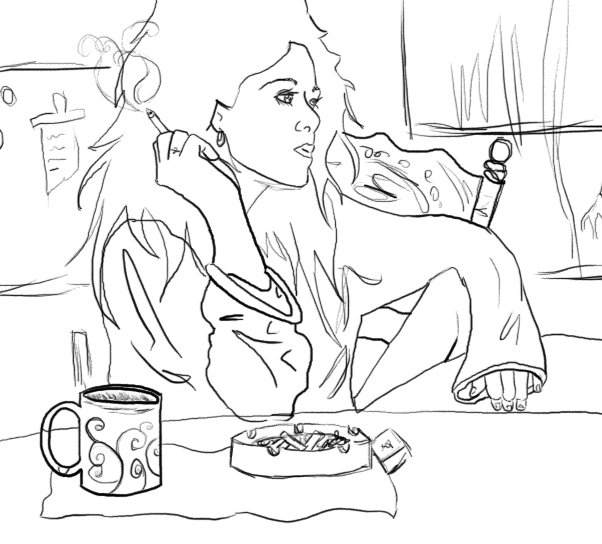 Lazy Sunday Mornings
by Sunny

Prompt: Coffee and Cigarettes
prompted by: Lindsay Nucera, during Sketch Fest #15 (June, 2011)

Ahhh, how I wish more of my days started like this, sitting at the window and enjoying some "me" time! Priced to sell as is; will be finished, prices negotiable for finished piece.
---
Comment?
Ellen Million says: Oh, very expressive - I love it! ~ Reply?
Alisha Christian says: Wow! So much detail and done so well. Fantastic job! ~ Reply?
Selina Fenech says: Love the line work and attitude in this. ~ Reply?
Lindsay Nucera says: This piece is amazing!!! I love it, Kimberlynne! Thank you for choosing my prompt. I am honored to inspire you. ~ .xoL. ~ Reply?
Natacha Chohra says: Oh I love this! It is Suday morning here in the UK and Im'realizing I am doing just that (naughty I know lol) x ~ Reply?
Noreen says: Her face is so lovely and contemplative! This is a fantastic sketch! ~ Reply?
Lindsay Nucera says: Hey Ellen ~ I purchased this piece during Sketch Fest #15 and never received it. I know that the artist was quite ill at the time, but I am hoping she is 100% better and able to send me this sketch?!? If you could check this situation out for me...I mean...if you have a way to do so...I would be most grateful. Thank you much! ~ L ~ Reply?
---
---
Public Updates List


Information for customers, updates for Sketch Fest, specials and new available publications. To join the artist updates list, or other specific lists, click here!

Donate to get more spiffy features and site improvements: