Sketch Fest #129:
Sketches ~ Prompts
Finished Work
Available Sketches
Previous Sketch Fests
Donate to get more spiffy features:

Sketch Fest #129 will run March 26-28! (Today's date: 2021-06-24 12:33:28)

Sketch Fest has ended! Stay tuned for the next event!
---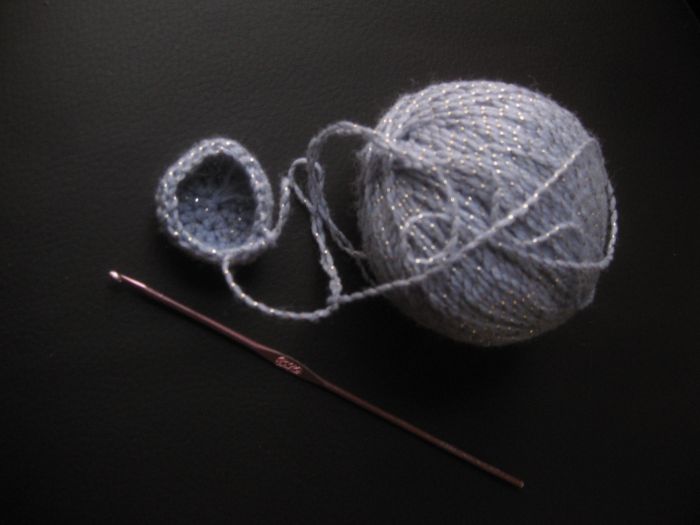 Base of Mouse
by mikka

Prompt: Crochet animal
prompted by: katerina Koukiotis, during Sketch Fest #128 (January, 2021)

A start on what will be a small stuffed mouse toy, roughly the same shape/style as the clay rattle mice from a while back -- https://www.ellenmilliongraphics.com/sketchfest/sketchfestart.php?id=19017 -- which were in turn based on a felt mouse my mom made when I was little. The yarn is a pale blue-grey with a thread of sparkly gold. Eyes, nose, and whiskers will probably be embroidered; tail might be ribbon or embroidered or ...? (Apologies for failing to include the image file the first time around.)
---
Comment?
katerina Koukiotis says: love this so cute!!! cant wait to see this finished !! ~ Reply?
mikka
replied to this: I have high hopes for eventual cuteness. :)
Afke says: Yay, so nice to see different materials being used for prompts! I'm currently using a similar looking yarn to knit a scarf. ~ Reply?
mikka
replied to this: Many cheers for sparkly yarns to delight one's inner six-year-old! :)
---
---
Public Updates List


Information for customers, updates for Sketch Fest, specials and new available publications. To join the artist updates list, or other specific lists, click here!

Donate to get more spiffy features and site improvements: