Sketch Fest #117:
Sketches ~ Prompts
Finished Work
Available Sketches
Previous Sketch Fests
Donate to get more spiffy features:

Sketch Fest #117 will run January 17-19! (Today's date: 2020-02-22 21:05:01)

Sketch Fest has ended! Stay tuned for the next event!
---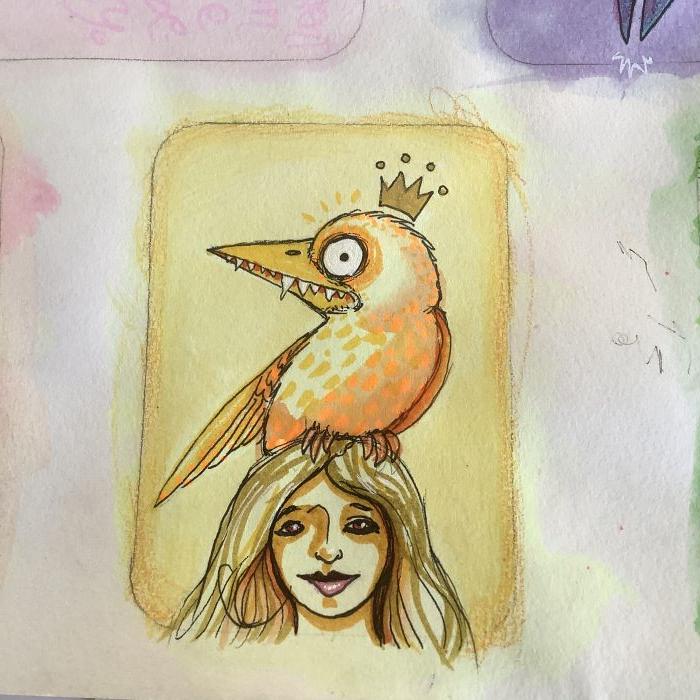 Crowned 👑
by Natta

Prompt: Fairy, gnome, or other tiny person with their pet bird
prompted by: Anke Wehner, during Sketch Fest #116 (December, 2019)

This bird has attitude and it rules.
---
Items for Sale
Show/hide products for sale
A portion of each purchase price is donated to EMG; the rest goes to the artist. This piece is mailed directly from the artist, and they will be given your address and email address. Ellen cannot guarantee that it will be shipped promptly or what condition it will be in. Please see the descriptions for more details. Shipping is included in all prices!
ACEO: Small mixed media painting on watercolour paper
Product type: Original - As Shown $20.00
(15% of this purchase is donated to Sketch Fest)

You must be logged in to spend credits. Find out more here. You may use the link above to purchase using Paypal or credit card.
---
Comment?
Kathy Nutt says: That's some bird! very fun! ~ Reply?
---
---
Public Updates List


Information for customers, updates for Sketch Fest, specials and new available publications. To join the artist updates list, or other specific lists, click here!

Donate to get more spiffy features and site improvements: