Sketch Fest #129:
Sketches ~ Prompts
Finished Work
Available Sketches
Previous Sketch Fests
Donate to get more spiffy features:

Sketch Fest #129 will run March 26-28! (Today's date: 2022-01-16 17:10:07)

Sketch Fest has ended! Stay tuned for the next event!
---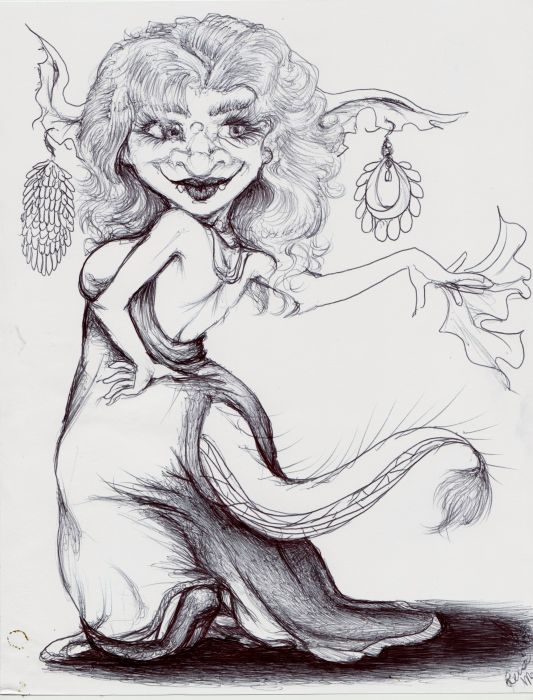 May The Fierce Be With You
by Renae Marie

Prompt: Goblin
prompted by: Anke Wehner, during Sketch Fest #13 (April, 2011)

Alternately titled "May The Fierce Be With You," this was created while listening to RuPaul's new CD "Champion," and inspired by Ru, as well as all those people who KNOW they're beautiful, fierce and fabulous no matter what other people say. :) This will very possibly still continue to be worked on, but for now, here's my hourly contribution- all done in black, ballpoint pen. Hope you like!
---
Comment?
Ellen Million says: Ahahaha! I love it - her sassy pose, and the gorgeous hair. You WORK it! ~ Reply?
Anon says: Supermodel! Love her curves! ~ Reply?
MG Ellington says: I love this. Her expression is terrific. ~ Reply?
Jenny Heidewald says: What Ellen said! :D Love her right hand. ~ Reply?
---
---
Public Updates List


Information for customers, updates for Sketch Fest, specials and new available publications. To join the artist updates list, or other specific lists, click here!

Donate to get more spiffy features and site improvements: