Sketch Fest #108:
Sketches ~ Prompts
Finished Work
Available Sketches
Previous Sketch Fests
Donate to get more spiffy features:

Sketch Fest #108 will run April 5-7! (Today's date: 2019-04-21 01:12:00)

Sketch Fest has ended! Stay tuned for the next event!
---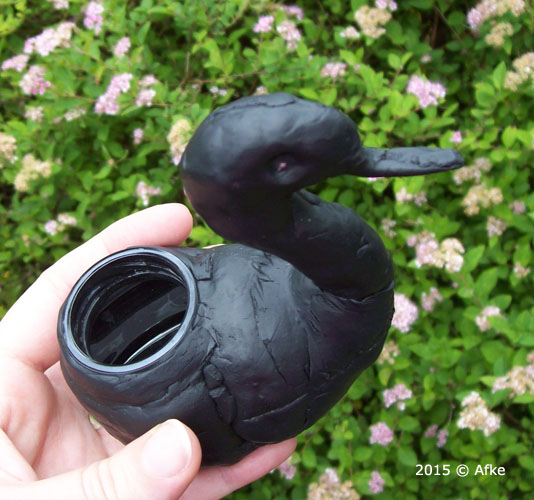 Bird planter - Work in progress
by Afke

Prompt: Green Bird
prompted by: Jenny S., during Sketch Fest #64 (June, 2015)

This artist has posted at least one finished version of this piece!
I've decided to go for the planter idea. This is just the basic shape that I baked (polymer clay, with aluminium foil and wire, and a little glass jar inside), so I have something sturdy to work on. I went for a swan-like shape.
---
Comment?
Erich Heidewald says: You'll have to get some teeny little plants to put in it! Looks great so far. :) ~ Reply?
Afke
replied to this: If it doesn't work out, I might use floral foam, and put some new dried stuff in it, once in a while. :)
Ellen Million says: That is gorgeous! I love it! ~ Reply?
Jenny Heidewald says: Very cool, Afke! ~ Reply?
mikka says: Oooh, neat! Please post a picture when it's planted! ~ Reply?
Afke
replied to this: If all goes well, I will. :)
Jenny S. says: So pleased to have inspired this! ~ Reply?
Afke
replied to this: I finally uploaded a version that includes a tail! :D
---
---
Public Updates List


Information for customers, updates for Sketch Fest, specials and new available publications. To join the artist updates list, or other specific lists, click here!

Donate to get more spiffy features and site improvements: