Sketch Fest #128:
Sketches ~ Prompts
Finished Work
Available Sketches
Previous Sketch Fests
Donate to get more spiffy features:

Sketch Fest #129 will run March 26-28! (Today's date: 2021-02-27 17:15:19)

Sketch Fest #129 starts in: 26 days 18 hours and 44 minutes! Join the Facebook Event
---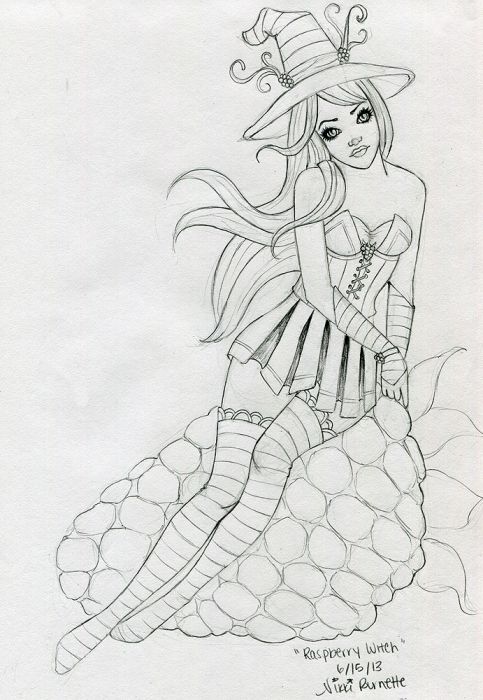 Raspberry Witch
by Nikki Burnette

Prompt: Raspberries
prompted by: Afke, during Sketch Fest #38 (June, 2013)

I saw the prompt "Raspberries" and just had to use it draw another addition to my "Fruit Witch" series. This is "Raspberry Witch" and she was so much fun to draw! Thanks for the great prompt. =)
---
Comment?
Maigan Lynn says: YAY Nikki! I'm so glad to see you participating in Sketchfest on 'non-working' hours! :) Ms. Raspberry is lovely! :) ~ Reply?
Nikki Burnette
replied to this: Lol, yes! I finally caved and decided to participate even though it's during the weekend. I had so much fun! =)
Evelyn Henderson says: Very nice.. ~ Reply?
Nikki Burnette
replied to this: Thank you Evelyn! =)
Afke says: Well, thank you for doing this prompt, I like your style! Raspberries are my fave fruit. ~ Reply?
Nikki Burnette
replied to this: Thanks Afke! I was really happy when I saw this prompt. Thanks for suggesting it! =)
---
---
Public Updates List


Information for customers, updates for Sketch Fest, specials and new available publications. To join the artist updates list, or other specific lists, click here!

Donate to get more spiffy features and site improvements: