Rainbow Dreams
by Jenny Heidewald

Prompt: Rainbow Dreams
prompted by: Sylvia Heidewald, during Sketch Fest #17 (August, 2011)

This is a finished version of a sketch!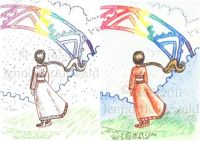 Limited edition watercolored print, 1 of 3. Micron pen, watercolor, print on 2.5 x 3.5" Strathmore watercolor paper. Please contact me if you are interested in a limited hand colored print. :)
Sales are temporarily disabled while the site is upgraded. Estimated completion: March 2018!