Sketch Fest #120:
Sketches ~ Prompts
Finished Work
Available Sketches
Previous Sketch Fests
Donate to get more spiffy features:

Sketch Fest #121 will run June 5-7! (Today's date: 2020-06-02 08:24:33)

Sketch Fest #121 starts in: 3 days 4 hours and 35 minutes! Join the Facebook Event
---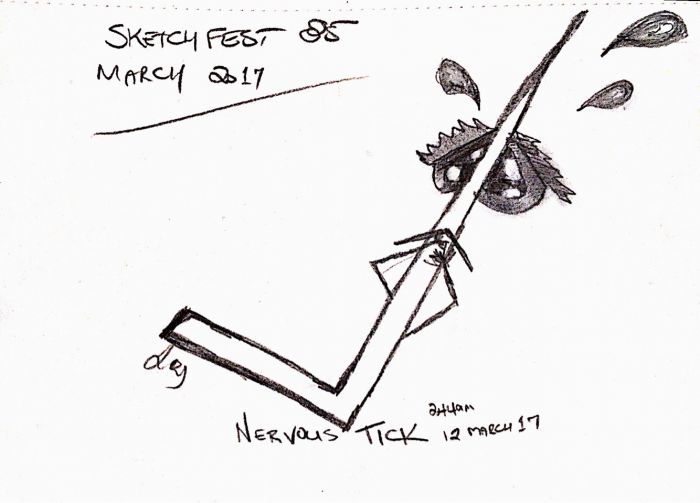 Nervous Tick
by Rae

Prompt: nervous tick
prompted by: SpringDragon, during Sketch Fest #85 (March, 2017)

This artist has posted at least one finished version of this piece!
I'm a bit rusty, but here's a little Nervous Tick for you, hope you like it :)
---
Comment?
SpringDragon says: xD awesome. Hadn't even thought of that kind of tick! ~ Reply?
Rae
replied to this: Thanks, tried to think outside the box, as it were :)
Sally Gilroy says: This is great! ~ Reply?
Rae
replied to this: Thank You, glad you like it :D
Evelyn Henderson says: lol ~ Reply?
Rae
replied to this: Haha Thanks :D
---
---
Public Updates List


Information for customers, updates for Sketch Fest, specials and new available publications. To join the artist updates list, or other specific lists, click here!

Donate to get more spiffy features and site improvements: