Sketch Fest #120:
Sketches ~ Prompts
Finished Work
Available Sketches
Previous Sketch Fests
Donate to get more spiffy features:

Sketch Fest #121 will run June 5-7! (Today's date: 2020-06-03 08:06:38)

Sketch Fest #121 starts in: 2 days 4 hours and 53 minutes! Join the Facebook Event
---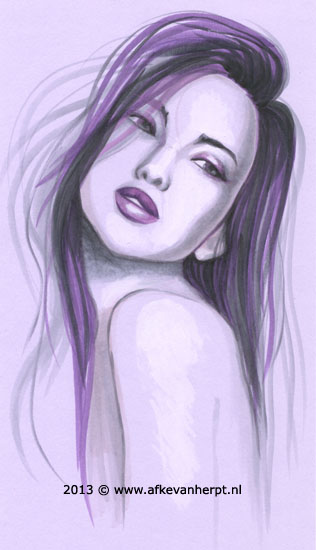 Purple Passion
by Afke

Prompt: Purple Passion
prompted by: Amanda Dempsey, during Sketch Fest #39 (July, 2013)

I was working on this at the market in my town (with a crowd), and at some point the ink of the gray markers I was using ran out. I don't have refills for these yet, so it may take a while before I can finish this.
---
Comment?
Amanda Dempsey says: Gorgeous! Thank you so much! ~ Reply?
Christine G says: she is beautiful! ~ Reply?
Carol Moore says: Beautiful! ~ Reply?
---
---
Public Updates List


Information for customers, updates for Sketch Fest, specials and new available publications. To join the artist updates list, or other specific lists, click here!

Donate to get more spiffy features and site improvements: